ABOUT US
At Achievers' Preschool, we believe children are talented, capable and eager learners. We believe that early learning is the root of a child's success. Since learning begins at birth, Achievers' Preschool will strive to provide educational experiences and learning opportunities to assist parents in providing a "good beginning" for the children.
We believe in creating an environment in which children will find warmth, comfort and gentleness as well as an abundance of opportunities for movement, exploration and self discovery according to their individual needs, interest, and abilities.
We are committed to helping each child reach their fullest potential by recognizing each stage of development and fashioning an environment designed to nurture and facilitate growth during each stage. It is important that each child achieves independence, self- discipline, social competence, self- knowledge, enthusiasm for learning, positive attitude, intellectual growth and an organized approach to problem solving.
We are dedicated to assisting parents in understanding the developmental stage of their child by enabling them to effectively contribute to the child's growth and enrichment.
Our school is licensed by the state where it operates and adheres to the highest standards of safety, security, cleanliness, teaching and loving care.
Our Mission
Achievers' Preschool mission is to provide a safe, affordable, high quality care and developmentally appropriate environment for preschool children ages one to five. Our program is designed to meet the intellectual, moral, social, emotional, and physical needs of each child.
HEALTH AND SAFETY
We firmly believe all children need security, love, guidance, support, and supervision while they are in their formative years. We also believe that every child should learn from their mistakes and be taught how to handle themselves properly in situations. It is essential that our staff, teachers, and caretakers understand clearly the principles of child growth and development. Inappropriate behavior can be changed by positively reinforcing appropriate behavior.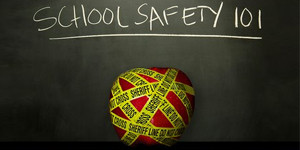 Closed circuit television monitoring system

Daily sign-in & out system for parents & staff

Faculty certified in CPR & First Aid in accordance with licensing requirements

Local & federal background checks & authorizations for our Staff

Mandatory uniforms are worn by all children & staff

The physical environment and educational curriculum and model used at the school support children's social and emotional well-being, promoting self- esteem and autonomy.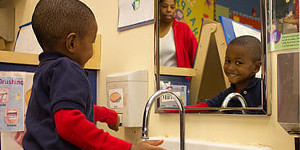 Parents must keep children at home if they are sick or appear to be ill.

A child experiencing fever, general body rash, diarrhea, symptoms of conjunctivitis, impetigo, head lice, yellow/green run noses or other communicable diseases or conditions will not be admitted into the center.

If your child becomes ill, you will be contacted immediately and will be asked to pick up the child within two hours of being notified.

If your child is required to take medication, it must be prescribed by his/her physician. If the medicine is not prescribed, then a doctor's directions must accompany the medication. A "Medicine Authorization Form #5" must be filled out completely on a weekly basis and signed by the parent or guardian in order for a medicine to be administered. Prescription medications brought by the parents or guardians must be in their original container with the name(s) of the physician and the child, and the medication directions (dosage amount and times to administer medication) written on the label. If a spoon is necessary to administer the medication, it must also be labeled with the child's name.

biometric system (daily sign in/out)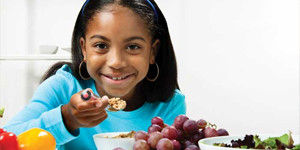 Nutritious breakfast, lunch and snack served with whole milk or 100% Juice.

A vegetarian menu is also available.

Children are taught about nutritious foods and eating habits.